Food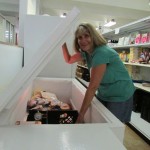 Clover Area Assistance Center operates the largest food pantry in western York County. Our food pantry operates as a Full Choice Pantry, meaning that those in need actually shop directly from the pantry shelves. Each person is assisted by a volunteer and given a list to shop with. This list is different depending on the number of people in a household. The larger the family, the larger the quantity of items they may select from each category.
Regularly, we may have an excess amount of a certain type of food or food that is perishable and will not keep its quality over time. In these instances, we offer larger quantities of these items per household than what appears on the shopping list. We work very hard to avoid waste and try to provide perishable items when they are of good quality.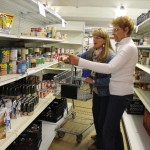 Each household is eligible to receive food from the pantry one time each month. There are no assigned times to seek assistance each month. It doesn't matter when or what day a person comes in – they are able to receive food once monthly.
At different times throughout the year, we offer specialty foods to choose from that are in ADDITION to a person's regular shopping list. For example, at Thanksgiving, every household is eligible to receive a turkey and their choice of side item foods for preparation. Hams, turkeys, and frozen dessert items are typical "extras" that are distributed to clients at certain times of the year.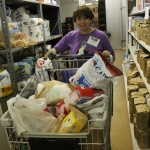 As with all of our services, individuals must be CAAC clients whose personal information provided is current and all eligibility requirements have been met.