What's Next?
Once you have compiled the necessary documents to verify #1 Address, #2 Identification, and #3 Income, you are ready to come to Clover Area Assistance Center to meet with an Intake Volunteer and apply for assistance!  Our Client Administrator will be available to explain any policies or clarify the process and services available.
Clover Area Assistance Center 1130 Highway 55 East Clover, SC  29710
Directions
Clover Area Assistance Center is located in Clover on Highway 55 East between the stop light at 557 (Shell Station) and the stop light at McDonald's. We are located on the same side of the street as both of those establishments. Our building is located in a cluster of buildings that include Courtney's Barbecue, a Service Station, and Pop-Pops Fireworks. CAAC is set off the road from the other businesses. The building has a brick front with a blue green roof.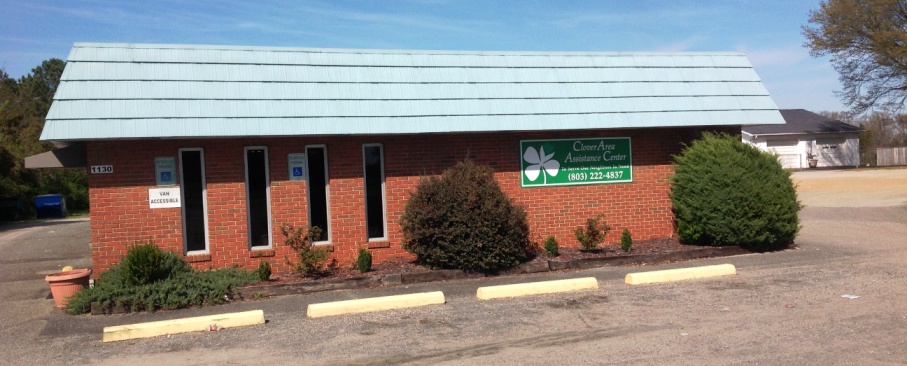 Parking is available in front of the building, on both sides, and in the back. Please use the front glass door under the awning for entry.
When to Apply
Clover Area Assistance Center is open Monday and Wednesday from 1:00pm to 4:00pm and Thursday from 9:00am until Noon. Clients must arrive no later than 15 minutes before closing in order to begin the application process and receive services.
What To Expect
You will most likely be greeted by a Floater Volunteer, who will ask you for your name and reason for coming into CAAC. As an applicant, your name will be placed in a log and you will be called to meet with the Intake Volunteer in the order you were logged in. The Floater Volunteer will give you an application form to complete while you are waiting.
When you are called to meet with the Intake Volunteer, she will verify your address prior to reviewing your documents. She will also complete a check to see if there are government services you qualify for that you do not receive. She will then go through all of your documents with you and begin the eligibility process. Depending on your particular income situation, further income verification with outside sources may be required.
As long as you have all the necessary documentation with you, the entire process usually takes about 15 minutes. Once your eligibility has been confirmed, you will be able to receive services immediately. (This excludes medical and dental, which may have waiting periods before care is available.)
As a client, you will be responsible for updating your account every six months in order to remain in good standing and continue to receive services.
IF YOU HAVE ANY QUESTIONS, PLEASE DO NOT HESITATE TO CALL US! WE GENERALLY HAVE SOMEONE AVAILABLE TO ANSWER CALLS MONDAY, WEDNESDAY, AND THURSDAY FROM 8:00AM – 5:00PM. IF YOU LEAVE A MESSAGE, WE WILL GET BACK TO YOU AS SOON AS WE CAN!
What's Next?
Now that you've got all of your paperwork, and now that you know where CAAC is, let's talk about the kinds of help we can offer to you and your family.
Click here to see Our Services.
If, for some reason, we are unable to help you, we encourage you to go to our Resources page.  There you will find a vast amount of information about organizations in our area that can potentially give you the aid you need.