What We Do
Our Mission
Ready to Help Those Clover Residents in Need
Clover Area Assistance Center (CAAC) responds effectively and compassionately to those in need who live within the boundaries of the Clover School District. Basic, urgent needs are met through food, financial assistance, health services, and education. It is through local partnerships and collaborations that we strive to help people bridge the gap between dependence and self-sufficiency.
Clover Area Assistance Center has become the central service agency that those with needs turn to. If a person's needs go beyond the scope of our programs, we utilize our ever growing network of partners and resources throughout York County to ensure that help can be found. At Clover Area Assistance Center, we recognize that it is our duty to be good stewards of the resources that have been entrusted to us. We deliberately work to ensure that the donations and efforts of our generous community are optimally dispersed to those with the greatest need.
Helping People Become Less Dependent on Outside Resources
We know life is hard, and it is not our intent to make it even harder. But, our mission is about helping people to become less dependent on outside resources to meet their basic needs. We try to have those in need take ownership and responsibility of the things they can. Because our own resources are limited to assisting only those within our service area, the client is responsible for providing proof of residency and eligibility. By engaging individuals in this way, they become a part of the process.
In all we do, we are working to provide individuals access to the services and programs that they need, while helping them prepare for a more stable future.
Our History
A Clover Depression that Birthed a Mission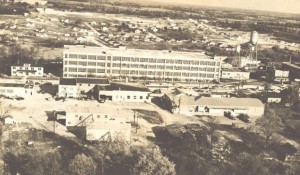 In 1982, the Clover area fell into an economic depression after several textile mills closed locally.  The mills were a major employer, and it did not take long before families were having difficulty meeting basic needs.  In response to that need, the River Hills Lions Club began major food drives throughout the community.  They organized their efforts and were soon placing food collection barrels in local grocery stores.
The River Hills Lioness Club joined the effort and helped distribute the collected food.  Before long, the Lions were operating The Good Neighbor Pantry which was housed in the same facility as the Clover Caring Center.  The Clover Caring Center ran a thrift store and provided clothing to those in need.  Food was distributed every other week  and the process of asking recipients for information regarding residency, household size, and approximate monthly income was started.
A Partnership Becomes Clover Area Assistance Center
In December 1999, The Good Neighbor Pantry and Clover Caring Center merged to become Clover Area Assistance Center, a nonprofit charitable organization.  Today, CAAC operates the largest food pantry in western York County.  CAAC moved into its current location in 2003.  Although some of the services have changed, more than a decade later, the basic premise has remained the same – To Serve Our Neighbors in Need.